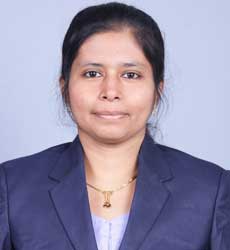 Miss. Yasmin H. Momin
Head of Department
The department of pharmaceutical chemistry is involved in taking lectures in the subjects of general chemistry, organic chemistry, pharmaceutical / medicinal chemistry and pharmaceutical analysis for the undergraduate students in the four-year B. Pharm course.
We start our B. Pharm course with general chemistry and organic chemistry. Organic chemistry is a very important and valuable subject. It is the very essence of all life on our planet. The department is well equipped to introduce these fundamental subjects to the students so that a strong foundation is laid at the very beginning. This foundation serves as the building block for all other subjects in the entire B. Pharm course. An organic chemist by any other name could be a synthetic organic chemist, bioorganic chemist, natural product chemist, physical organic chemist, organometallic chemist, computational chemist, material chemist etc. among a host of super specializations. Chemistry is to biology what notation is to music and the department is all poised to make the students take a step towards chemistry.
The subject deals with practical aspects of Qualitative analysis, Quantitative analysis, synthesis of various compounds, Assay of formulations. Thus, course content is systematically organized and intended to prepare the graduates for academia as well as pharmaceutical industry. The program confers students to proceed with higher studies and research projects. The syllabus has been modified with the assistance of experts from academia and industry taking in to thought the present advancements in the field of pharmacy profession and to meet the prerequisites of pharmaceutical industries and academia.
Salient Features of Department
The department provides large area for experimental performance and research projects. The prerequisites of practical's and research activities are satisfied time to time.
The department is equipped with sophisticated instruments like HPLC, UV-Visible spectrophotometer, Karl fisher apparatus, Hot air Oven, Conductometer, flame photometer, potentiometer etc.
The department aims to confer theoretical, practical and content beyond the syllabus knowledge to the students for their professional development and to fulfil need of Pharma industries.
Facility for conducting the projects (Study/ Laboratory) from third year onwards along with regular courses, seminars, assignments etc.
The following subjects are catered in this laboratory
Pharmaceutical Organic Chemistry
Pharmaceutical Inorganic Chemistry
Medicinal Chemistry
Biochemistry
Pharmaceutical Analysis