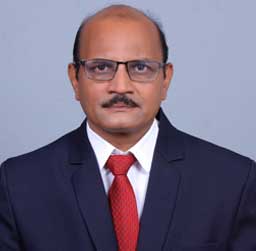 Prof. R. B. Jadhav
Principal
First of all I hearty welcome and congratulate to all budding pharmacists in ADCBP and world of emerging Pharmacy Profession. Our aim is not only to produce pharmacy graduates but also to mould an ideal pharmacy professional who can meet the global needs of various health care systems and pharmacy profession. ADCBP has the strategic vision of becoming the centre of excellent in pharmacy education and research via student centered teaching and learning process, research, patient centered care and community services.
I feel proud to state that our college has meritorious and experienced faculty, well established state of art laboratories with sophisticated instruments, library with an ample number of books, national and International Journals as well as an E-Library, Computer laboratory with internet facility stimulate the students to work more professionally. We provide a pneumatic approach to develop the knowledge and skills of students both theoretically and research oriented which eventually meets the emerging up gradation of multinational companies and research in the field of Pharmacy. Our academic system has been framed taking into consideration the responsibility of students to meet the demands of hi-tech pharmaceutical industry, at the same time ensuring that they confidently serve the requirements of patient care and pharmacy practice."We carve stones we just do not polish them we make monument out of it".
We concentrate personally on student's moral uprightness, scientific insight, communication skill and social commitment. For the care of students we have appointed psychological consoler and provided language lab and medical facility in campus. Sanstha has provided huge playground, sports complex, and Gym facility to encourage the students for extracurricular activities. In keeping with its objective of providing the best possible pharmaceutical education, the College has built up a strong infrastructure. This comprises of highly knowledgeable faculty, most of whom hold doctorates and facilities that enable students to gain a contemporary education. Continuous interaction with industry is maintained to ensure that the learning program remains relevant to the changing trends in pharmaceuticals.
The interest and effort of our management, highly qualified & dedicated faculty and supporting staff, will definitely help our students in achieving excellence in professional career. I assure that, your life in this college will be academically fruitful and pleasant.