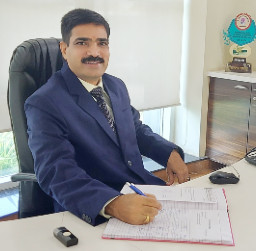 Dr. Mahesh G. Saralaya
Principal
"The function of education is to teach one to think intensively and to think critically. Intelligence plus character – that is the goal of true education."
– Martin Luther King
I heartily welcome and congratulate all the budding pharmacists in Annasaheb Dange College of Pharmacy and to the world of emerging pharmacy profession.
"Our vision is to create Competent Pharmacy professionals who can positively impact the healthcare system of society and meet the global need of the pharmacy profession."
We established a state-of-the-art technology of education system, that supports a much wider array of content that would take the future Pharmacist through strategically planned experiences that measure qualitatively as per global standards to prepare future professionals. It was a challenge. We at Annasaheb Dange College of B Pharmacy have worked every inch to make it a reality.
At this unique institution, we refine the academic skills, fine-tune the aesthetic senses and work towards building a holistic culture that values the individuality of each student, helping them realize their innate potential.
Research-based learning is the norm at our institute, where each student is guided through an individualised work plan in consonance with his/her potential, thereby providing a complete learning experience.
We support and nurture innovative and imaginative minds in their educational journey to explore and revel in the joy of learning. This will help the students to realize the kind of professional they are going to become and sense of responsibility as a professional towards the health care system of society and to the profession of pharmacy.
Institute is well equipped with all the latest sophisticated instruments, the ambiance of a world-class green campus, and the best Teachers and Researchers who are working round the clock for student welfare and care.
Teamwork is the hallmark of ADCP, we believe, through collaborative effort, we can achieve more and benefit our students who are future professional leaders.
To experience the true joy of learning, come join us and be a part of an institute.